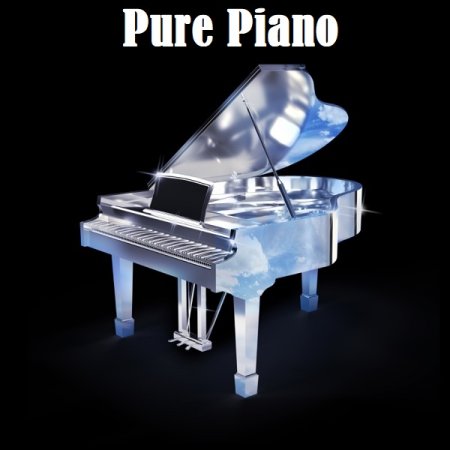 Исполнитель:
Various Artist
Название:
Pure Piano
Страна:
All world
Жанр музыки:
Piano, Classical Music, Instrumental
Дата релиза:
2021
Количество композиций:
100
Формат | Качество:
MP3 | 320 kbps
Продолжительность:
06:02:13
Размер:
856 Mb (+3%)
TrackList:
12 Etudes, Op. 25_ No. 1 in A-Flat Major _Aeolian Harp_ 049 Beatrice Rana Chopin_ 12 Etudes, Op.
About Coming and Leaving 094 Nils Frahm About Coming and Leaving - Single
Bagatelle No. 25 in A Minor, WoO 59 _Fur Elise_ 063 Stewart Goodyear Bagatelle No. 25 in A Minor,
Beethoven Variation (After String Quartet No. 13, Op. 130_ II. Presto) 071 Florian Christl Beetho
Chants du Rhin, WD 52_ L'aurore 098 Nathanael Gouin Bizet sans Paroles
Children's Corner, L. 113_ I. Doctor Gradus ad Parnassum 091 Behzod Abduraimov Debussy - Chopin -
Dieux et Demons in B-Flat Minor 004 Jordane Tumarinson Dieux et Demons - Single
Goldberg Variations, BWV 988_ Aria 008 David Fray J.S. Bach_ Goldberg Variations
In the Beginning Was 7 Alice Sara Ott Echoes of Life
Inverness 003 Vanessa Wagner Ciani_ Inverness - Single
Joy 097 RIOPY Joy - Single
Les Barricades Mysterieuses 006 Simone Dinnerstein Couperin_ Les Barricades Mysterieuses - Single
Lullaby 057 RIOPY Lullaby - Single
Lullaby for Edward 8 Belle Chen We Shall Meet Again, Under The Moon - EP
Luminous 0 Ludovico Einaudi Underwater (Video Edition)
MOON 044 Sofiane Pamart MOON - Single
Musica callada, Book 1_ No. 1, Angelico 005 Lilit Grigoryan Mompou_ Musica callada
Piano Sonata No. 30 in E Major, Op. 109_ I. Vivace ma non troppo - Adagio espressivo 070 Sunwook
SOLITUDE (Solo) 9 Sofiane Pamart SOLITUDE (Solo) - Single
Sonata No. 16 in C Major, K. 545_ I. Allegro 069 Sebastian Knauer The Mozart _ Nyman Concert
Spring Waltz 046 Yiruma Spring Waltz - Single
The Art of Fugue, BWV 1080_ Contrapunctus I 042 Filippo Gorini Bach_ The Art of Fugue
The place where they go (Munich Session) 051 Carlos Cipa The place where they go (Munich Session)
The Well-Tempered Clavier, Book 1_ Prelude I in C Major, BWV 846 080 Aaron Pilsan Bach_ The Well-
Variations on a Polish Folk Theme, Op. 10_ Andante doloroso rubato - Tema. Andantino semplice 088
Variazioni su un tema da _Carmen_ di Bizet 1 Giovanni Renzo Variazioni su un tema da _Carmen_ d
7 Bagatelles, Op. 33_ I. Andante grazioso quasi allegretto 055 Jonas Vitaud Beethoven 18, Heili
Borealis 4 Sofiane Pamart BOREALIS - Single
Dagdraumur 066 Eydis Evensen Bylur
Duyuslar_ II. Kucuk Coban 064 Fazil Say Ulvi Cemal Erkin (Turk Bestecileri Serisi, Vol. 6)
Estate 065 Milana Zilnik Stagioni (Dreaming of Vivaldi) - EP
Fantasiestucke, Op. 12_ Des Abends 076 Tanguy de Williencourt A Concert at the Time of Proust
Infinity 086 Rosey Chan Sonic Apothecary
Lionheart 0 Stephan Moccio Lionheart
Pavan "Sir William Petre" (Parthenia 2; MB 27_3a) 048 Kit Armstrong William Byrd & John Bull_ The
Place to Be (Arr. for Piano by Demian Dorelli) 0 Demian Dorelli Pink Moon, A Journey on Piano
Symphony No. 6 in F Major, Op. 68 _Pastorale_ (Transcr. by Liszt)_ II. Scene am Bach. Andante mol
Upland 9 Olivia Belli Sol Novo
4 Impromptus, Op. 90, D. 899_ No. 3 in G-Flat Major. Andante 0 Alexandre Tharaud Schubert_ 4 Im
Because This Must Be 074 Nils Frahm Graz
Gedanken zu Bach Ach wie fluchtig, ach wie nichtig A.D. 20_ III. Aria_Ayre (Ach wie fluchtig, a
Goldberg Variations, BWV 988_ Variatio 2 a 1 Clav. 100 Lang Lang Bach_ Goldberg Variations (Exten
Nocturne 3 8 Craig Armstrong Nocturnes_ Music for 2 Pianos
Papaya Tree_ Part 1 081 Belle Chen Belle Chen_ Late Night Sessions_ The Storyteller
Three Short Scenes_ I. Dandelion 050 Belle Chen Late Night Sessions_ New Dawn
Wachet auf, ruft uns die Stimme, BWV 645 (Transcr. F. Busoni for Piano) 078 Francesco Piemontesi
Adagio in E Major, D. 612 1 William Youn Schubert_ Piano Sonatas II
Couture 095 Stephan Moccio Moccio_ Vol. 1 - EP
Mad Rush_ Part D (Bar 232 - Bar 273) 058 Vestard Shimkus America 1
Sonata No. 42 in D Minor (Arr. Olafsson) 3 Vikingur Olafsson Mozart & Contemporaries
2 Piano Pieces, Op. 54_ I. Scottish Legend 5 Marie-Catherine Girod Regards de femmes
Consolations, S. 172 (Excerpts)_ No. 2 in E Major 9 Cordelia Williams Nightlight
In the Mists, JW VIII_22_ III. Andantino 9 Lars Vogt Janacek_ Piano Works
Libertango 3 Lise de la Salle When Do We Dance
3 Intermezzi, Op. 117_ I. Intermezzo in E-Flat Major 1 Anna Tsybuleva Brahms
Capriccio brillant, Op. 22, MWV O 8_ I. Andante 4 Matthias Kirschnereit, Michael Sanderling & F
Du Gronne, Glitrende Tre 9 Bugge Wesseltoft It's Snowing On My Piano (Bonus Track Edition)
Mazurka No. 37 in A-Flat Major, Op. 59 No. 2 (21 Remastered Version) 3 Martha Argerich Chopin
Mazurkas, Op. 63_ No. 2 in F Minor. Lento 0 Javier Perianes Frederic Chopin_ Piano Sonatas No.
8 Klavierstucke, Op. 76_ II. Capriccio in B Minor 4 Anna Tsybuleva Brahms
English Suite No. 1 in A Major, BWV 8_ VII. Sarabande 0 Vladimir Ashkenazy Bach_ English Suit
An American Mosaic_ An Elegy for Our Time 2 Simone Dinnerstein An American Mosaic
Mars_ Hadzabe Touched 9 Tanya Ekanayaka Tanya Ekanayaka_ The Planets & Humanity – Piano Reflect
Prelude, Fugue et Variation, Op. 18, FWV 30_ Prelude 1 Shani Diluka The Proust Album
7 Fantasien, Op. 116_ IV. Intermezzo. Adagio 6 Adam Laloum Brahms_ Piano Sonata Op. 5, & 7 Fant
Kaschmir 2 Clemens Christian Poetzsch Poetzsch_ The Soul of Things
LifeBlood 6 Fabrizio Paterlini LifeBlood
Nostalgie du pays, extrait des Miniatures polonaises 4 Lucas Debargue Zal - The Music of Milosz
7 Virtuoso Etudes After Gershwin (Excerpts)_ No. 2, Somebody Loves Me 3 Raffi Besalyan The Soun
Preludes, Op. 23_ No. 6, Andante 2 Luis Fernando Perez Rachmaninov_ ?uvres pour piano
Les Barricades Mysterieuses 2 Khatia Buniatishvili Labyrinth
Mercy Duet 7 Max Richter Richter_ Voices 2
Nocturnes, Op. 9_ No. 2 in E-Flat Major. Andante 6 Seong-Jin Cho Chopin_ Piano Concerto No. 2;
Siciliana (From _The Tree of Life_) [Arr. for Piano from Antiche Danze, Suite No. 3 by Ottorino R
Etudes, Book 1_ No. 15, Andante affettuoso 7 Joanne Polk Louise Farrenc_ Etudes & Variations fo
Impromptu No. 1 "Hope" 0 Niu Niu Beethoven_ FATE & HOPE
Moments Musicaux, Op. 16_ No. 5 in D-Flat Major, Adagio sostenuto 4 Sonya Bach Rachmaninov
Visions fugitives, Op. 22_ No. 8, Commodo 0 Nicholas Angelich Prokofiev_ Visions fugitives, Pia
Air (After Air on the G String) 5 Thomas Enhco & Vassilena Serafimova Bach Mirror
Folk Song (After _Dumka_ from Piano Quintet in A Major, Op. 81, B. 155, by Dvorak) 2 Martin Sta
Silencio de Parc Guell 3 Joe Hisaishi Songs of Hope_ The Essential Joe Hisaishi Vol. 2
Fugue in D Minor, Op. 72, No. 1_ Nicht schnell 8 Yaara Tal Tracing Bach
Halston 3 Stephan Moccio Lionheart
Leitom Suite, Op. 33_ VI. The Leitom 8 Oyvind Aase Carl Gustav Sparre Olsen_ Complete Piano Mus
Shades of Light_ IV. Afternoon in La Duquesa 2 Laura Mikkola Svein Hundsnes_ Piano Works
Toccata in G Major, BWV 916_ Adagio 7 Claire Huangci Bach_ Toccatas
24 Preludes and Fugues, Op. 87_ Fugue No. 7 in A Major 0 Igor Levit On DSCH
Herz und Mund und Tat und Leben, Cantata BWV 147_ Jesu, Joy of Man's Desiring (Transcr. Myra Hess
24 Preludes, Op. 28_ No. 15 in D-Flat Major - Sostenuto 5 Charles Richard-Hamelin Chopin_ 24 Pr
Prelude No. 3 in D Major 7 Arta Arnicane Douglas Munn_ Piano Music
Flute Sonata No. 2 in E-Flat Major, BWV 11_ II. Siciliano (Arr. for Piano by Kempff) 7 Andrew
Berlin 6 Sofiane Pamart Pamart_ PLANET GOLD
Sometimes I Feel Like a Motherless Child 5 Isata Kanneh-Mason Summertime
Well-Tempered Clavier, Book 2, Prelude and Fugue No. 9 in E Major, BWV 878_ I. Prelude 3 Piotr
15 Variations & Fugue in E-Flat Major, Op. 35 _Eroica_ Var. 15 7 Pierre-Laurent Aimard Beethove
Nocturne in C Minor, Op. Posth., KK IVb_8 6 Jan Lisiecki Chopin_ Complete Nocturnes
I'll Be Around (Arr. Bill Charlap for Piano) 2 Jean-Yves Thibaudet Carte Blanche
6 Pezzi, P. 44_ No. 3, Notturno 1 Imogen Cooper Le temps perdu
Bist du bei mir (Formerly Attrib. J.S. Bach as BWV 5, Notebook for Anna Magdalena Bach, 1725)
Sept pieces dans l'esprit populaire, Op. 2_ VII. Souvenir d'une chanson russe 5 Nathalia Mils
DOWNLOAD LINKS: Pure Piano (2021) Mp3Download | TurboBit
https://turb.pw/g45e7zile19e/Pure_Plano.rar.html

Download | HitFile
https://hitf.cc/9GpIYar/Pure_Plano.rar.html

Download | Turbo.to
https://turb.pw/g45e7zile19e/Pure_Plano.rar.html

Download | Hil.to
https://hitf.cc/9GpIYar/Pure_Plano.rar.html

Download | RapidGator
https://rg.to/file/d9f7f80a5deb9bae8ce0eb6ac36e16ad/Pure_Plano.rar.html

Понравилась новость? Расскажи друзьям!